AVIATIOn I OPERATION I MILITARY
RESCUE &
RECOVERY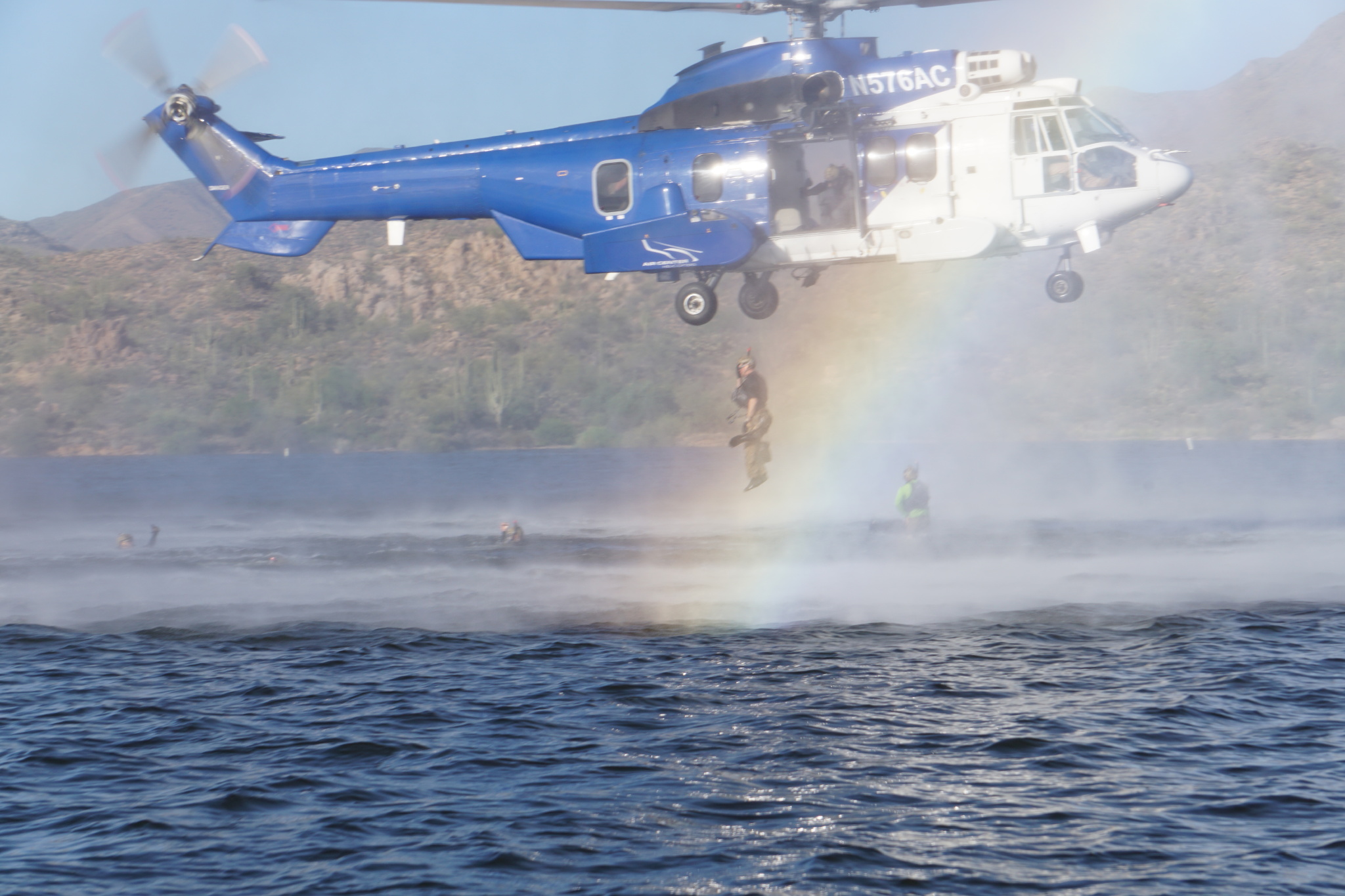 Air Center RESCUE is a CAMtS accredited personnel recovery (PR) and search and rescue (SAR) training SERVICE WITH FACILITIES in Flagstaff, Arizona.
Air Center offers proven and effective solutions for Medical Evacuation (MEDEVAC)/Casualty Evacuation (CASEVAC)/Personnel Recovery (PR)/Search & Rescue Operations. Our team has a developed Commission on Accreditation of Medical Transport Systems (CAMTS) certification specifically for MEDEVAC operations in remote and underdeveloped areas. The CAMTS accreditation is considered as one of the most prestigious certifications a medical air transport company can achieve. Our pilots and aircrew have extensive military backgrounds in PR operations and are trained on tactics, techniques, and procedures for low intensity conflict missions. Air Center employs former USAF Pararescue (PJs) in these type programs. Our theater experience with regards to these operations range from Africa to Afghanistan to Antarctica.
PERFORMANCE
Air Center Rescue is managed by a uniquely experienced team of core rescue personnel with specialized military and civilian backgrounds in PR and SAR activities. They direct a cadre of battle tested SME rescue instructors supported by highly qualified technicians.
OPERATIONS
Air Center Rescue also has the ability to incorporate the extraordinary aviation resources of Air Center Helicopters (ACH). Serving the federal agencies and the US military as a DoD CARB carrier since 1991, utilizing proven helicopters built to meet the challenging operational environments of our specialized customers.
Air Center Rescue plans and develops training instruction and exercises to meet DoD joint training standards. Using the crawl, walk, and run concept of progressive instruction Air Center Rescue delivers training that includes facilitated classroom exercises and simulations, leading up to a live field training exercise (FTX).
• Capability to coordinate realistic military training (RMT) in urban, expeditionary, remote and austere environments.
• Access to Remote Airfields and Austere Settings.
• All Combatant Command Environments (except jungle).
• Outfitter capability to provide housing accommodations, food, transportation, and logistics support for training operations.
• Located in scenic Northern Arizona with unlimited recreational opportunities.
Helicopter Rescue
Helicopter hoisting operations, helicopter short-haul, heli-rappel, Special Patrol Insertion / Extraction (SPIE), and fast rope techniques. Use of rescue adjuncts compatible with for human external cargo (HEC).
 
Personnel Recovery/CASEVAC
Training and practical exercises focused on the five personnel recovery tasks to address individuals in an isolated situation:
Report • Locate • Support • Recovery • Reintegration
Helicopter Flight Services
Low-level day and night flight operations, unimproved takeoff and landings, brown-out conditions, high density altitude drop zones and landing zones.
Unmanned Aircraft Systems
Standards, capabilities, and deployment of UAS systems for SAR and SOF missions, including terrain and weather impacts. Established airspace with pre-authorized FAA Certificates of Authorization (COA).
High Angle Rescue Training
Anchor systems, personal rope travel skills, patient packaging and medical considerations for rescue, as well as lightweight commercial off-the-shelf (COTS) rope rescue kits utilizing single rope techniques (SRT).
AIR CENTER RESCUE Training
•Airborne Mission Coordination
•Rescue Mission Commander
•Rescue Coordination Center
•PR Operational Control
•Search Management
•Re-Integration/Debriefing
•Aviation PR
•Mass Casualty Incident
•Rescue Contingency
•Non-Conventional Recovery
•Incident Command System
•Low-Level Day/Night Flight
•Infil-Exfil Support
•Live Exercise Planning
EXCEPTIONAL FEATURES INCLUDE
• Turn-Key Logistics Outfitter for Training
• Personnel Maintain TS/SCI Clearances
• Rotary-Wing and Fixed-Wing Operations
• Unrestricted Airspace - UAS Deployment
• High Altitude Training Facilities
• High and Low Elevation Desert
• High Density Altitude Surveyed DZ/LZ
• Unimproved Takeoff and Landings
• Embassy EAP Training Venue
• Non-Combatant Evacuation Operations
OUR CUSTOMERS
Air Center Rescue provides service to federal agencies, military customers, and foreign customers. Our level of personal attention to our customers allows us to be familiar with operational requirements and the ability to customize training programs to meet unique customer needs.
SERVICE
Delivering a superior training experience to our customers is critical at Air Center Rescue. The unique terrain in Northern Arizona permits Air Center Rescue to host realistic military training experiences that simply cannot be duplicated elsewhere. Government agencies worldwide recognize that this provides tremendous value to their units and supports the funds spent toward training personnel.
QUALITY
Air Center Rescue is dedicated to delivering training opportunities that are well-planned and involve the application of operational risk management (ORM) principles. This includes risk management through the implementation of mitigation strategies and planning for contingencies. Air Center Rescue has certified paramedics on staff and develops emergency plans in advance of operational training execution. Fleet aircraft offered by Air Center Helicopters are maintained by qualified mechanics meeting applicable FAA or DoD CARB flight requirements.
AIR CENTER RESCUE Gallery